---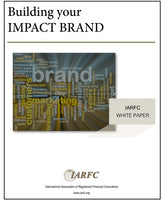 Utilizing the Building Your Impact Brand (white paper)
Branding for the financial professional is not trying to compete on a giant scale of actions such as Coca Cola or Mercedes. It is burning the consultant's image and competence into the minds of prospects and clients in everything that is presented to them no matter what size company.  The snapshot that one projects to the public should be carried through to the smallest detail – an effective campaign of keeping the identity.
This white paper discusses the importance of Branding and the first impression.  Branding can set the stage even before the consultant shows up on the scene.  It also defines the individual at each step of the client relationship.  The importance of visually impacting the client is something every consultant needs to understand and refine. Topics covered in detail help the consultant understand, build and maintain their professional footprint.
 As Walter Landor said – "Products are made in the factory, but brands are created in the mind."  Know yourself, know your product and blend the visual with the professionalism – a winning combination.
 Table of Contents:  Building Your Impact Brand, Competition Is Increasing, Who Wants Clients?, A Strong Brand, An Image is a Brand, Why Project an Image?, Effective Branding Principles, Consumer Attitudes/Decisions, Brand Loyalty, Perceptions, Leverage a Brand, Develop an Individual Brand, Impact Branding, Being Prepared Visually, Branding Creates Confidence, Reality Based, Initial Action Steps, The Last Word.