---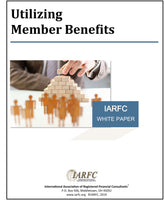 Utilizing Member Benefits (White Paper)
Being in line with the mission of an association is the most important consideration when deciding to join the ranks of the membership. Beyond that, determining if the benefits are right for you and if the association can benefit from your experience and talents are worth thinking about. Many times benefits appear ordinary on the surface until you dig deeper and actually figure out how best to utilize them. Are you looking for partner programs for discounts? Do you want to get involved in leadership and give back to your chosen career? What about writing opportunities? Or, are the designations and credentials all that is important.
This white paper lists benefits that pertain to the financial services industry. It presents opportunities within membership in many areas and how to take advantage of them. At times, examples are related to the IARFC and what it has to offer. Discover for yourself the tangible and intangible aspects of the association you are interested in.
  Table of Contents: Benefit Strategy, Timeliness, Designations, Credentials, Trademarks, Code of Ethics, Ethics Approved Status, Practice Management Tools, Branding, Publications, Visibility, Partner Programs, Social Media, Networking, Award Recognition, Insurance, Educational Programs, Leadership Positions, Give Back Opportunities, International Recognition, Ever Changing Benefits, The Last Word.