---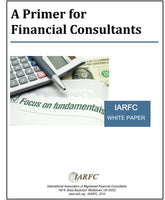 A Primer for Financial Consultants (White Paper)
 Sometimes just putting the basics on paper helps to simplify issues – thus a "Primer" for Financial Consultants. A Primer contains very fundamental principles for those just graduated from a financial services curriculum and are starting in financial services. It can also serve as a "reality check to those who have been in the business for years but just need to get "back to the basics".
 This white paper runs through concepts and provides thought provoking principles through which Financial Consultants can identify their ethical and moral responsibilities to themselves and their clients.
 These topics were taken from a PowerPoint Presentation given by Chairman and CEO, H. Stephen Bailey, MRFC® at an International Chapter graduation ceremony. 
 Table of Contents:  Who is This Message For?, Definition of a Primer, Financial Consultants are in the People Business,Treat Everyone as You Would Like to be Treated, Clients Want to Like and Trust Their Financial Consultant, It's the Clients' Goals, Having a Designation/Credential is Critical, Importance of a Designation/Credential, Complete Data Gathering is Essential, Find Appropriate Solutions, Financial Services Should be Compensated, Morals and Ethics, The Importance of Continuing Education, The Last Word.