---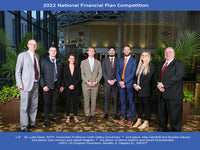 Support the Next Generation of Financial Consultants - Donate to the National Financial Plan Competition
The IARFC National Financial Plan Competition asks undergraduate students in financial planning programs at U.S. universities to submit a sample plan based on a case narrative provided by practicing consultants. Plans are judged through a comprehensive process and the winners are determined and recognized by national media exposure. Finalists explain their conclusions live in front of experienced consultants.
Designed exclusively for undergraduate degree programs, these competition teams advance through three phases. 
Case Study and Plan Development
Plan Presentation of Recommendations
Live Financial Plan Delivery
Advanced Students and Professors attend IARFC Conference and Competition.
 Learn more contact: (513) 424-5831 or plancomp@IARFC.org